Half the plate is based on an essay by Oliver Sacks, written about a patient, Mrs. S, who had lost the ability and concept of 'left". The parallels between the Bohlen-Pierce Scale and Ms. S's perceived reality struck us, as the scale is constructed of half the partials of the harmonic series and Ms. S was only able to perceive half the world. A reading of the text has been incorporated into our composition, the sequence of words of which becomes fragmented according to ratios governed by the Bohlen-Pierce scale.
The ensemble performs with Georg Hajdu's network music performance software Quintet.net, which has microtonal playback built into it. During the performance, the players, synchronized by a clock, send control messages to a central server from which they are sent to a sampler playing back sounds on five channels which the performers have created themselves.
Laptop performers:
Andrew Cush
Ian Battenfield Headley
Dean Russell
Edward Young
Zachary Zukowski
---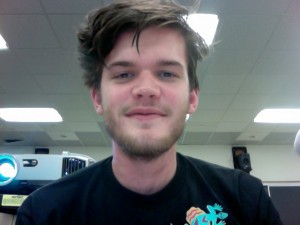 Andrew Cush is a composer and performer born in Severna Park, Maryland and currently residing in Boston.  He is a third year BS candidate studying music with a concentration in music technology at Northeastern University. Andrew is currently interested in exploring the interaction between micro- and macro- time in music and using frequency ratios to create and govern rhythmic relationships.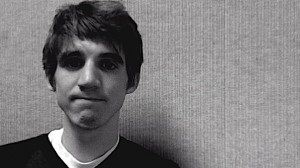 Dean W. Russell is a fourth year student at Northeastern University. He likes sound and sometimes tries to write it. Post-graduation, he plans to pursue the wealth of career opportunities he arranged for himself by exclusively studying electro-acoustic and acousmatic music for the past five years of his life.
Edward Young is a fourth year Music Technology student at Northeastern University. His compositional styles encompass the worlds of acousmatic music, classical, and a wide array of others. He is currently studying Network Improvisation with Georg Hajdu at Northeastern, where he has been working and continues to explore the possibilities of computer-to-computer live performance. Edward plans to continue his study of, and composition in, the contemporary musical realms after his departure from Northeastern.
Ian Battenfield Headley, 20, was born and raised in Lower Manhattan. His first interest in music began in 8th grade, when he started guitar- but an appreciation for electroacoustic composition started in high school when he began experimenting with processing and sequencing guitar, vocals and other sounds in various ways. He is a junior at Northeastern University pursuing a BS in Music technology, where he has begun to compose pieces that explore extreme ranges of dynamics and micropolyphony.
Zachary Zukowski is a guitarist, percussionist, and electronic musician from Cleveland, Ohio. He currently studies music technology at Northeastern University and is interested in exploring interactive composition techniques for new media art.