Sofia Borges: Ilustre Desconhecido (2010)
The Portuguese poet Eugénio de Andrade wrote: "The green of the highest bamboos is blue. If not the sky touches its branches." The almost 'instant' link between the earth and the sky somehow illustrates the idea I had for this composition: establishing links between the most distant points. It's not only about distances but also antipodes and extremes. On a first level I used the most elementary properties of sound as a starting point. On an intermediate level I established links between elements such as white noise against a single frequency or a concrete sound against an electronic sound. On an advanced level I used both aleatoric and algorithmic techniques. On every step I had the Bohlen-Pierce Scale as a common basis. To express this paradoxal synthesis for the name of the piece, I used a famous Portuguese oxymoron that means  "Illustrious Unknown".
---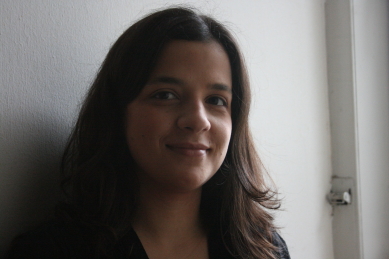 Sofia Borges, born in Lisbon- Portugal began her music studies at age 11. Attend the Amateur Academy of Music/Lisbon and subsequently studied Percussion at National Conservatory – Lisbon where she also studied Analysis and Composition Techniques with Eurico Carrapatoso.
The activity as a percussionist combined with her interest in ethnomusicology has led her to participate in concerts, festivals and conduct workshops in Portugal, Spain, United Kingdom, Ireland, Netherlands, Germany, Switzerland Poland, Estonia, Macau, Taiwan, Brazil, Australia and New Zealand, working with leading international artists.
After attending the School of Jazz Luis Villas-Boas – Hot Clube de Portugal she begans in 2006 her composition studies at Escola Superior de Música de Lisboa  (ESML). At ESML she studied Composition with Luis Tinoco, João Madureira, Sérgio Azevedo, among others, and Electronic Music with Carlos Caires. As part of her studies, she debuted her music in various editions of Peças Frescas Festival at Teatro S. Luiz/Lisbon. In 2009 completed her degree in Composition getting the final exam the classification of 19 points out of 20.
She had collaborated with NOL – Nova Orquestra de Lisboa and in 2008 premiered the piece "A part of every new Day – for Jazz Drums and live electronics" in the concert "Novos Ciclos por Segundo" – promoted by "Miso Music Portugal".
In 2009 she successfully applies for the Master in Multimedia Composition at Hochshsule für Musik und Theatre Hamburg – Germany, where she is currently studying with Peter Michael Hamel, Georg Hajdu, among others.
Commissioned by RDP / Antena 2 – Portuguese Broadcast she composes "D'Ouro sobre Azul" for solo Marimba, mandatory piece for the Young Musicians Prize 2010.
mp3 to Ilustre Desconhecido